Are you planning to live, work, or study in Spain? If so, you'll soon come across the concept of the NIE number. The NIE, which stands for Número de Identificación de Extranjero, is an essential identification number for foreigners in Spain. It plays a crucial role in various administrative processes, such as applying for a job, getting a residence permit, purchasing property, or even opening a bank account. In this comprehensive guide, we will delve into the world of the NIE number in Spain, explaining what it is, why you need it, and how to obtain one. So, let's unlock the power of the NIE number and navigate the Spanish system with confidence!
1. What is a NIE Number and why do you need it in Spain?
A NIE Number, which stands for Número de Identificación de Extranjero, is a unique identification number assigned to non-Spanish residents in Spain. This number is essential for anyone planning to live, work, study, or carry out any official activity in the country.
The NIE Number serves as a key document for identification and communication with various authorities and institutions in Spain. It is required for important procedures such as opening a bank account, buying or selling property, getting employed, paying taxes, obtaining healthcare services, and enrolling in educational institutions.
Without a NIE Number, it can be challenging to navigate the Spanish system and access basic services. It is crucial to obtain this number as soon as possible after arriving in Spain to ensure a smooth transition and avoid unnecessary complications in daily life. Knowing how to obtain a NIE Number and understanding its significance is vital for anyone planning to stay in Spain for an extended period.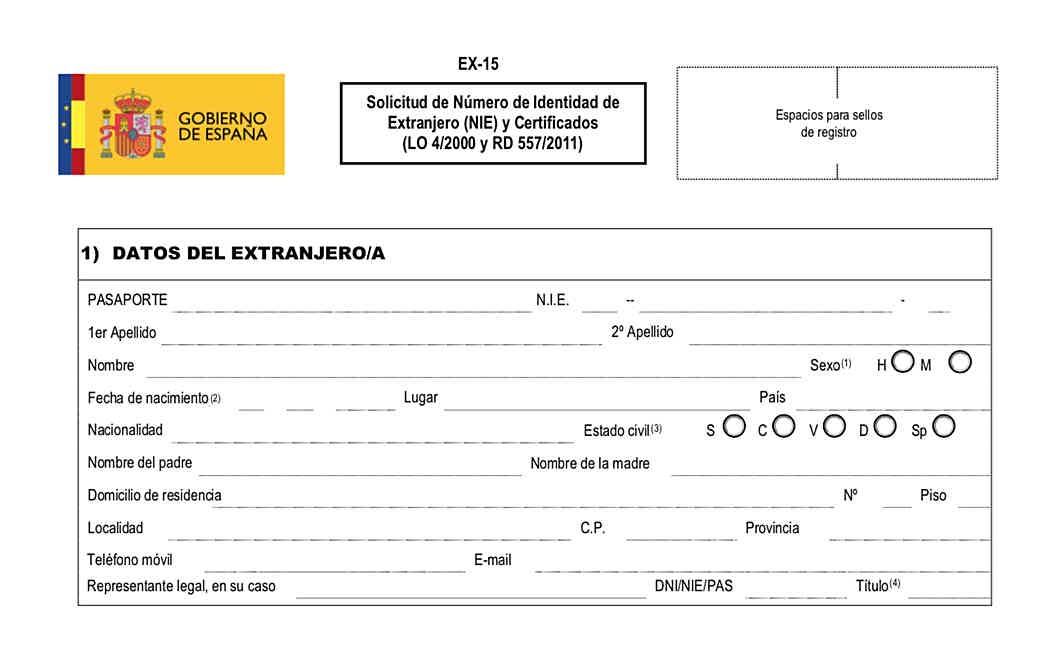 2. How to obtain a NIE Number in Spain
To obtain a NIE Number in Spain, you will need to follow a few steps. Here's a concise guide to help you through the process:
Schedule an appointment: The first step is to schedule an appointment at your nearest National Police Station (Comisaría de Policía) or Foreigner's Office (Oficina de Extranjeros). It's crucial to make an appointment in advance as walk-ins are generally not accepted.

Complete the application form: On the day of your appointment, make sure to arrive prepared with the necessary documents, such as your passport, a completed NIE application form (Formulario EX-15), and any supporting documents that may be required. The form can usually be downloaded online from the official website of the Spanish Ministry of Interior.

Attend the appointment: At the appointed time, visit the National Police Station or Foreigner's Office. Submit the application form along with the required documents and pay the applicable fee, if any. The officer will validate your documents and provide you with a stamped copy of the application.
Remember, the process may vary slightly depending on your location in Spain, so it's advisable to check the specific requirements and procedures of your region.
Once you have successfully completed these steps, you should receive a NIE Number within a few weeks. This unique identification number will allow you to carry out various legal and administrative procedures in Spain, such as opening a bank account, signing a rental agreement, or starting a business. Keep your NIE Number safe as you will often be required to provide it in official transactions.
3. Tips for using your NIE Number in Spain
When opening a bank account in Spain, your NIE Number is essential. Make sure to bring your NIE Number documentation when visiting a bank. This will allow you to complete the necessary paperwork and ensure a smooth account setup process.

Ensure you provide your NIE Number when signing any legal documents, such as rental agreements or employment contracts. Your NIE Number serves as a unique identification for foreign residents in Spain and is often required for official procedures. Having it readily available will save you time and avoid potential complications.

Keep a copy of your NIE Number with you at all times, as you may need to provide it for various situations. This could include purchasing a phone plan, signing up for utilities, or even joining a local gym. Having a digital or physical copy readily available will help streamline these processes.
Remember, your NIE Number is an important identification tool in Spain, so it's crucial to have it easily accessible and present it whenever necessary. Following these tips will help you navigate the Spanish system more effectively and unlock the power of your NIE Number.