Silk pillowcases have long been known as a luxurious addition to any bedroom, but did you know that they can actually enhance the quality of your sleep? Not only are they incredibly soft and gentle against your skin, but silk pillowcases offer a multitude of benefits that can help you achieve a better night's rest. Whether you're in search of a solution to frizzy hair, skin irritation, or simply want to elevate your sleep routine, sleeping on silk is the secret you've been missing.
One of the key advantages of silk pillowcases is their ability to prevent hair breakage and frizz. Unlike traditional cotton pillowcases that can roughen up the hair cuticle, causing tangles and damage, silk provides a smooth and friction-free surface for your locks to glide across as you sleep. The result? You'll wake up with hair that feels noticeably softer, silkier, and more manageable. Say goodbye to messy morning tangles and hello to healthier-looking hair.
But the benefits of silk extend beyond just hair care. Silk pillowcases are also gentle on the skin, making them a great choice for those with sensitive complexions or prone to irritation. The smooth and breathable nature of silk helps to reduce friction, which means less pulling and tugging on delicate facial skin during the night. As a result, you can wake up feeling refreshed without any pesky pillow creases or morning puffiness.
In addition to silk pillowcases, there are other silk products that can further enhance your sleep experience. Silk sleep masks provide a luxurious and comfortable way to block out light, ensuring uninterrupted rest even in the brightest environments. And for those who love to style their hair in a variety of ways, silk scrunchies are a gentle alternative to regular hair ties, reducing the risk of breakage and damage.
So, if you're searching for an indulgent and effective way to improve your sleep, look no further than silk pillowcases. With their hair-smoothing, skin-loving benefits, along with the added luxury of silk sleep masks and scrunchies, you'll be well on your way to achieving a truly blissful and restorative slumber. Invest in the secret to better sleep and wake up feeling refreshed, rejuvenated, and ready to conquer the day.
Benefits of Silk Pillowcases
Silk pillowcases offer a myriad of benefits that go beyond just providing a soft and luxurious sleeping surface. By choosing silk pillowcases, you can enjoy a more comfortable, restful sleep while also enhancing the health and beauty of your hair and skin.
Firstly, silk pillowcases are gentle on your hair, preventing it from becoming tangled or frizzy overnight. The smooth surface of silk allows your hair to glide effortlessly, reducing the risk of breakage and split ends. Say goodbye to bed head and hello to well-behaved, luscious locks in the morning!
Additionally, silk pillowcases can do wonders for your skin. Unlike cotton or synthetic fabrics, silk creates minimal friction against your face as you sleep. This can help prevent the formation of sleep creases, which can eventually turn into fine lines and wrinkles over time. With silk pillowcases, you can wake up with a smoother, more refreshed complexion.
Lastly, silk pillowcases are hypoallergenic and naturally resistant to dust mites, mold, and other common allergens. This makes them an excellent choice for individuals with allergies or sensitive skin. By sleeping on silk pillowcases, you can reduce the risk of allergic reactions and enjoy a cleaner, healthier sleep environment.
In conclusion, investing in silk pillowcases can bring you a world of benefits. From promoting healthier hair and skin to providing a hypoallergenic sleeping surface, the luxurious comfort of silk can greatly improve the quality of your sleep. So why not indulge in the ultimate sleep experience and enjoy the many advantages that silk pillowcases have to offer?
Enhance Your Sleep with Silk Sleep Masks
Silk sleep masks are a luxurious and effective way to enhance your sleep routine. These soft and gentle masks create a soothing and comfortable environment for your eyes, promoting a more restful and peaceful night's sleep.
One of the key benefits of using a silk sleep mask is its ability to block out light effectively. The smooth and opaque nature of silk fabric prevents any light from filtering through, ensuring complete darkness for your eyes. This is especially important for those who are sensitive to light or have trouble sleeping in well-lit environments.
Additionally, silk sleep masks are incredibly gentle on the delicate skin around your eyes. The soft silk fibers glide effortlessly over your skin, reducing friction and minimizing the risk of irritation or wrinkles. This is particularly beneficial for individuals who wear sleeping bonnets or silk pillowcases, as it creates a seamless and comfortable experience for your entire face.
Furthermore, silk sleep masks are often designed with adjustable straps, allowing you to customize the fit to your preference. This ensures that the mask stays securely in place throughout the night, preventing any accidental slippage that might disturb your sleep. The versatility of these masks makes them suitable for all head sizes and shapes, providing a snug and cozy fit for everyone.
In conclusion, silk sleep masks offer a luxurious and practical solution to improve your sleep quality. With their ability to block out light, gentle texture, and customizable fit, they provide a serene and comfortable experience for your eyes. Consider incorporating a silk sleep mask into your bedtime routine, along with silk pillowcases, silk scrunchies, and other silk sleep accessories, for a truly indulgent and restorative sleep experience.
Hair Care Benefits of Silk Scrunchies
Silk scrunchies are not only stylish hair accessories, but they also provide numerous benefits for your hair care routine.
Reduced Friction: Unlike traditional hair ties made from materials like elastic or cotton, silk scrunchies glide smoothly over your hair, reducing friction and minimizing damage. This helps to diminish breakage and split ends, keeping your hair looking healthier and more lustrous.

Less Tugging and Pulling: Silk has a soft and gentle texture, meaning that when you use a silk scrunchie to tie up your hair, it is less likely to pull or tug on your strands. This prevents unnecessary stress on your hair follicles, which can lead to hair loss over time.

Extra Protection for Delicate Hair: If you have fine, delicate, or easily damaged hair, silk scrunchies can be a game-changer. These scrunchies provide a protective barrier between your hair and the elastic band, helping to prevent breakage and minimize the appearance of creases or indentations that regular hair ties can leave behind.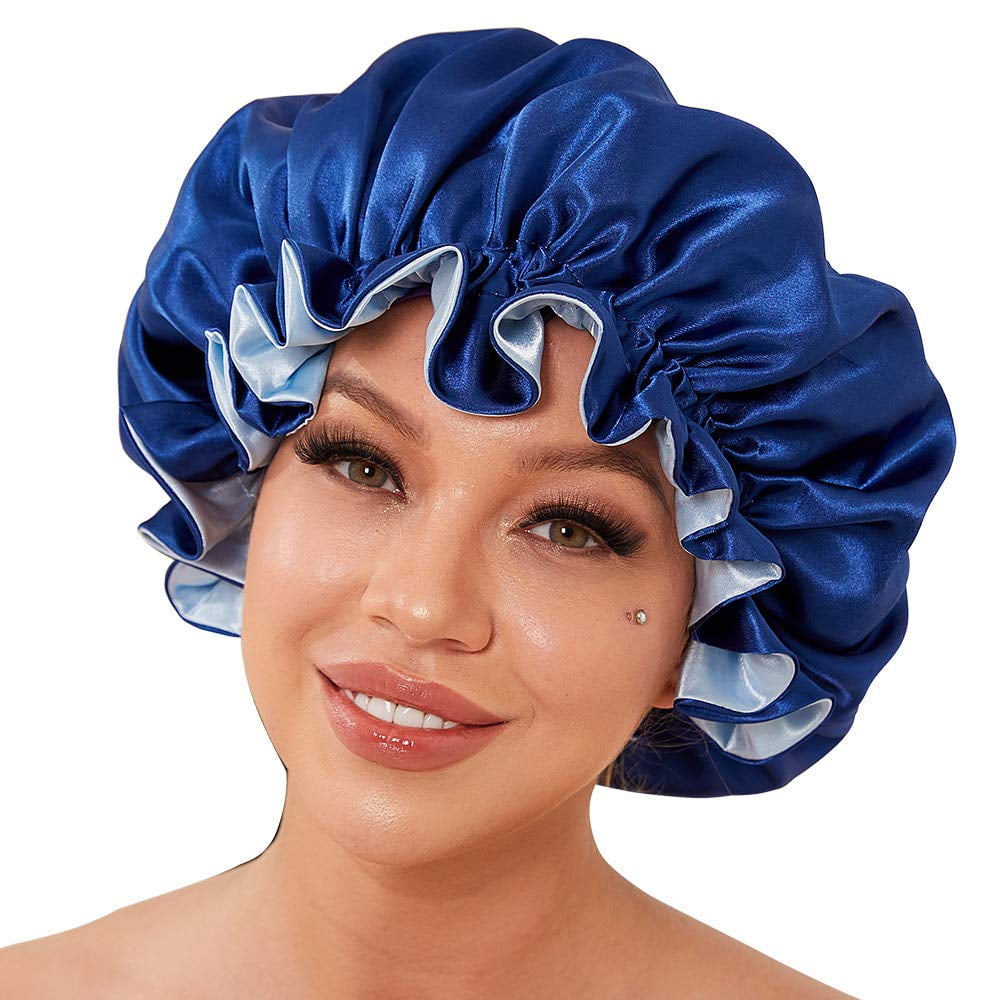 Silk Pillowcase Benefits
With these hair care benefits, silk scrunchies are a luxurious and practical addition to your daily hair routine. Incorporating them into your hair care regimen can help improve the overall health and appearance of your hair.